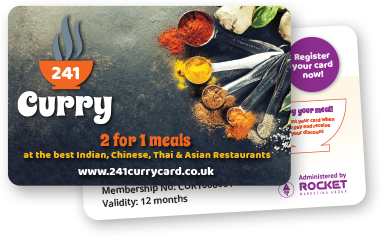 Received a card?
Register your card now then you can search for restaurants and see full offer details.
Join for just £49.95!
Enjoy your favourite dishes for less at the best Indian, Chinese, Thai and Asian restaurants across the UK as often as you like for an entire year.
It couldn't be easier…
Simply follow these 3 simple steps to get great savings on dining out.
1
Search
for a restaurant
Log In and search restaurants in your chosen area
2
Call
to book
Call your restaurant to book a table. Don't forget to mention your 241 Curry Card!
3
Enjoy
your meal
Enjoy your meals! You will need to present your Card when you pay to receive your discount
Your Card
241 Curry Members receive a handy dining Card that entitles them to discounts at hundreds of participating curry restaurants across the United Kingdom. Keep your 241 Curry Card safe as you will be required to present it when you pay for your meal.
If you have any questions, you can contact us.